Greetings Arts Lovers,
All around the world, students are going back to school, artists are getting back to work, learners are ready and refreshed, and arts organizations are restarting their programming. On behalf of everyone at CommonTime, I would like to say good luck to everyone starting something new this coming September. As always, CommonTime is here to support educators through planned lessons, custom lessons, events, and more. We are ready to support our artists by putting their content in front of more eyes than ever. And we are poised to bring arts organizations to the next generation in a digital space. This school year, make CommonTime your home for cultural arts learning experiences.
All the best,
Michael
Co-Founder/Education + Outreach Coordinator, CommonTime Online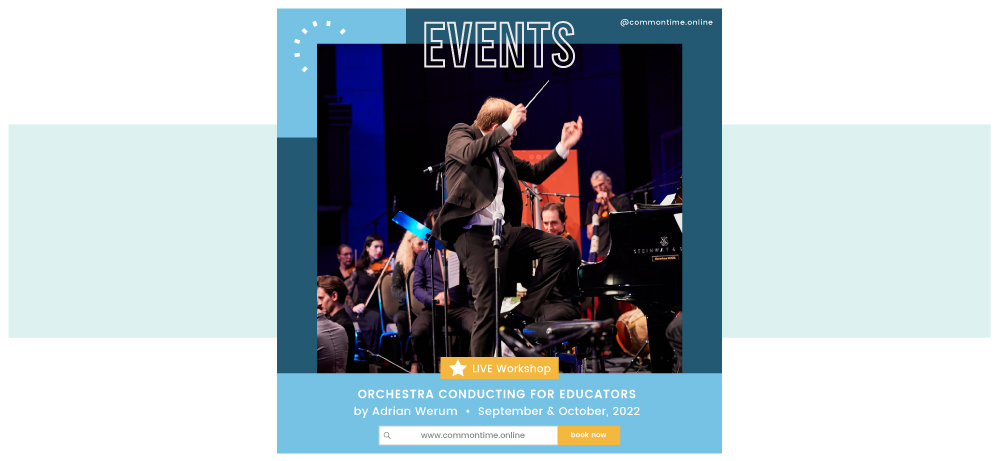 Music educators, mark your calendars! Conductor and composer Adrian Werum of the Orchester der Kulturen in Stuttgart is hosting a series of 1-hour professional development workshops beginning on September 17th. Adrian specializes in connecting musical cultures through mixed instrumentation and musical styles. The Orchester der Kulturen, like Adrian, is known for embracing the world instruments that reflect the breadth of Germany's rich and diverse cultural landscape. These engaging two-part sessions are on Orchestral Conducting for Educators and Arranging for both Choral and Band Educators.

Don't miss out on these rare professional development opportunities! To book a workshop on orchestra conducting, choral arranging, or band arranging, click here.

The CommonTime Team would like to thank you all for pausing, reading, and listening to Georg's story. At its heart, CommonTime is about making connections through the arts. We see just how powerful those connections can be when we come together in support of a young musician.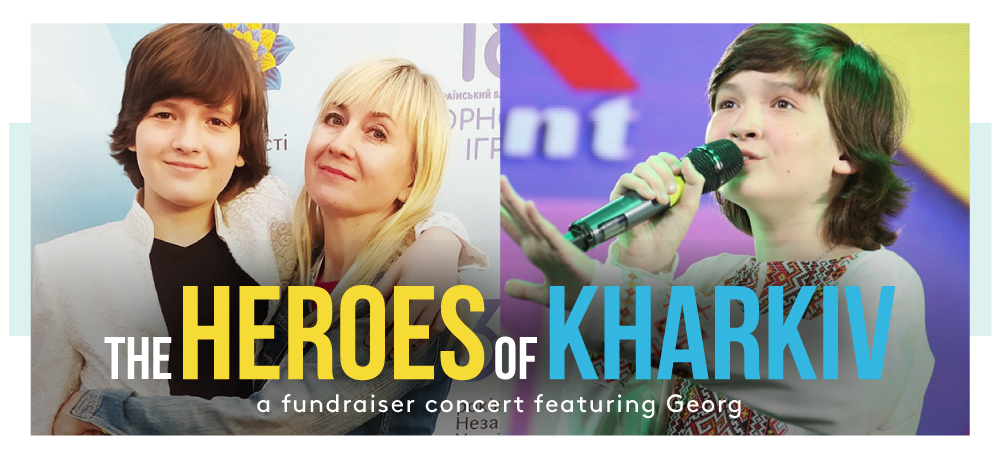 If you missed Georg's live event, don't worry! For the month of September, the event recording is available for purchase on CommonTime.



You might have noticed that a new link has been added to the top of the website: Lessons! The Lessons page is where you can see all of the Planned Lessons that CommonTime Teaching Artists have created. Planned Lessons are a way that Artists can outline engaging and proven lessons and present them for purchase. For Educators, booking Teaching Artists has never been easier. With just a few clicks, you can give your learners a great art experience on your schedule!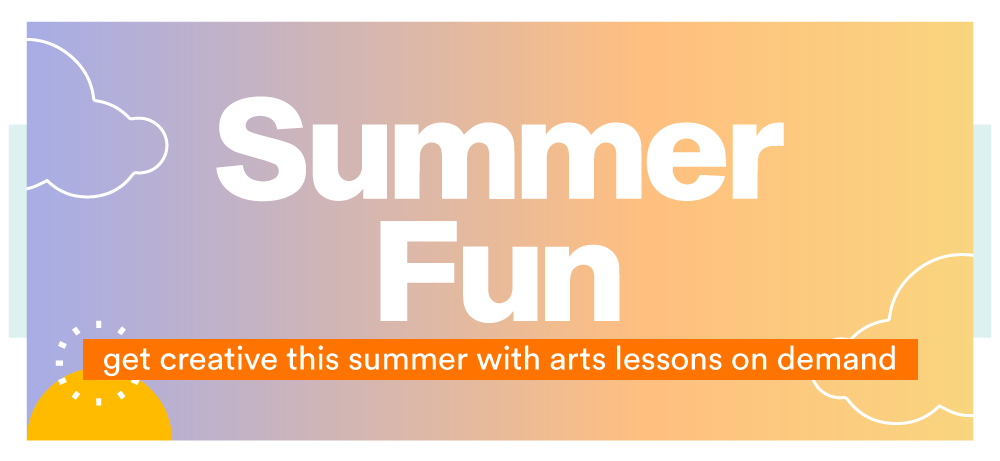 We are excited to share a curated selection of Planned Lessons under the Summer Fun banner. End your summer with a bang when you book these great readymade lessons! Get moving with Manon and Dr. Joseph, get expressive with Joleen, and get rhythmic with Michael. Having a great summer arts experience is as easy as 1-2-3 when you book a planned lesson with a CommonTime Artist!

Want to add your own Planned Lessons to the roster? Artists can create these lessons on the My Account page under 'Lesson Offerings.'

Through late September, CommonTime Arts Organization the World Children's Choir will be holding rehearsals for their two upcoming virtual choirs. Both the Prayer for Ukraine charity virtual choir and the Love Sings a New Song for the World virtual choir will host weekly rehearsals on CommonTime.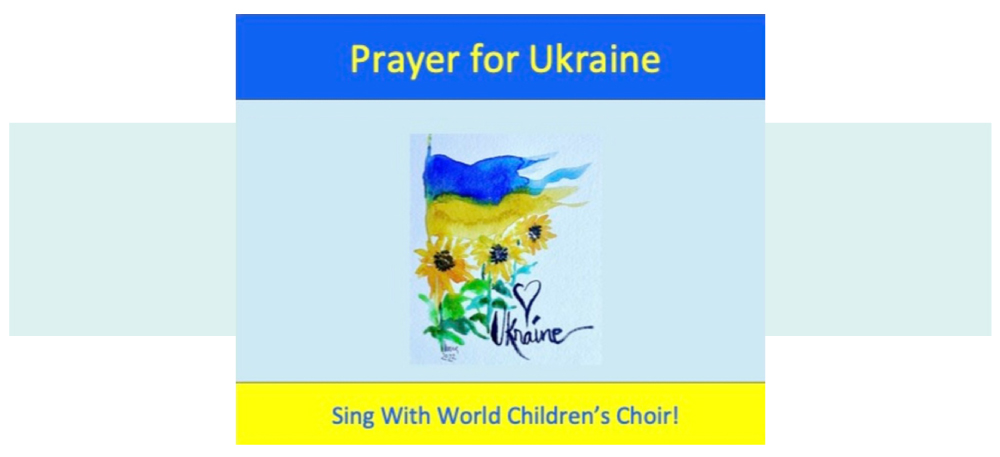 August 24th was Ukrainian Independence Day! Let's celebrate the occasion by extending a helping hand — or in this case, a helping voice! Through the end of this month, the World Children's Choir invites children, teens, and adults from all nations to sing in a new virtual video. Attend a weekly rehearsal with Sondra Harnes and the World Children's Choir to learn the song Molytva za Ukrayinu, the patriotic and spiritual anthem of Ukraine. After learning the song (or if you already know it), record yourself singing and upload your video. All of the recordings from around the world will be combined into a single recording, paired with a video, and then livestreamed on #CommonTime. 92.5% of the proceeds from this concert will go to benefit NGOs focused on Ukraine. Click here to register. Your voice will make a world of difference.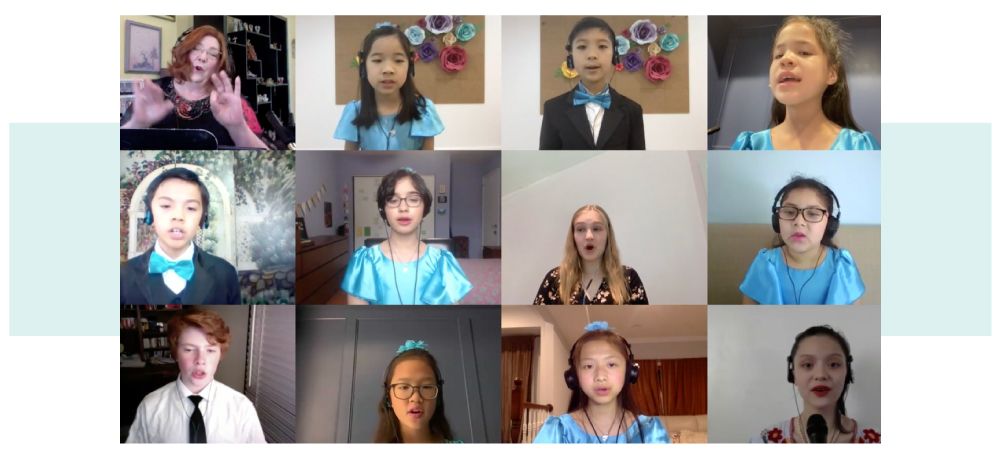 Be a voice for love in the world! Learn to Sing with the World Children's Choir in the premiere work, "Love Sings a New Song for the World!" From now until the end of this month, learn to sing in weekly rehearsals with Sondra Harnes — lyric soprano, voice teacher, pianist, and children's choir conductor! Each rehearsal includes breathing exercises, vocal warm-ups, and learning the melody (or alto part) and words for the original song, "Love Sings a New Song for the World." Book a lesson with Sondra here.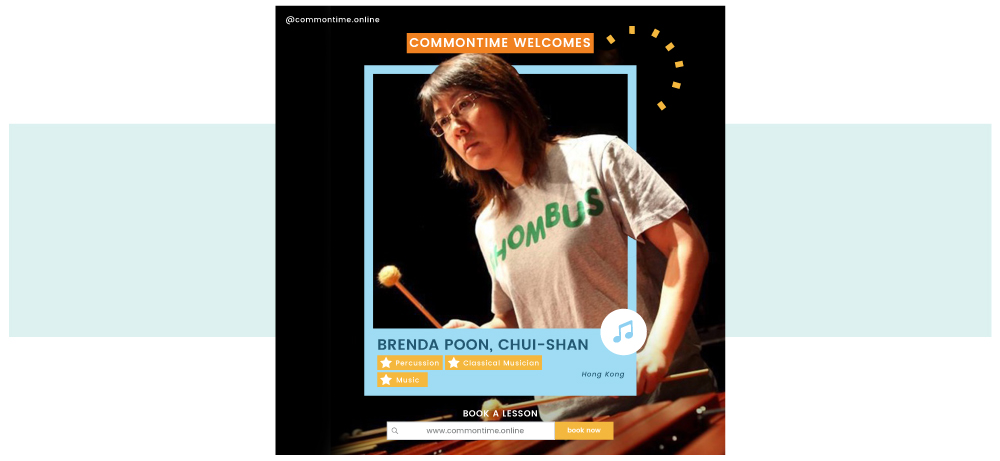 Brenda Poon is a freelance percussionist and classical musician from Hong Kong. She is an experienced percussion educator and percussion band conductor for primary and secondary schools. When she isn't teaching, she is performing! She has drummed for various orchestras, wind bands, indie bands, and festivals held in Korea, Japan, Singapore, Taiwan, Macao, and Guangzhou. She is also the co-founder of "Rhombus," a percussion quartet. In her words, "learning music is not only focused on techniques and reading scores. We also need to open our ears to listen, to feel, and to play music with our heart!" Book a lesson with Brenda and feel the beat of your heart!
Last year, Brenda debuted on CommonTime as part of the 2021 International Music Festival with her Pocket Rudiments workshop; if you missed it, the recording is available for purchase on the CommonTime Arts Organization page!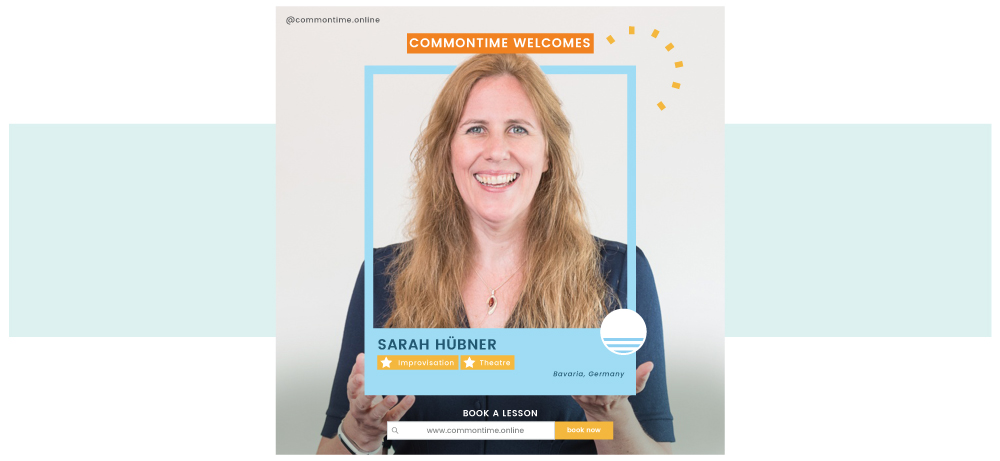 Sarah Hübner is a passionate theatre practitioner, performer, and educator who loves improvisational theatre. She founded, performed, and directed theatre companies in Europe, the U.S., and China, and she has been teaching and facilitating theatre courses and curricula to people of all age groups since 2000. Her mission is to help people express themselves more freely so that they can lead more engaged and fulfilling lives and contribute positively to our globalized world. Her areas of expertise include theatre improvisation, Theatre of the Oppressed/Forum Theatre, devised theatre, and applied theatre. Book a lesson with Sarah and grow your creativity!