Are you looking for private arts lessons? Do you need a substitute teacher for your music class? Find teaching artists from all over the world on CommonTime!
On CommonTime, it's easy to hire a teaching artist for private, group, or classroom sessions. You can purchase a pre-made session from an Artist, or you can Build a Session where you set your own learning goals and outcomes. Would you like to learn the different types of four-mallet grips for the marimba? Do you want to learn the basics of the kamancheh? Do you want to learn how to write music using the Japanese haiku? Learn it all on CommonTime!
Not sure how to book an Artist on CommonTime? Just follow along with this handy step-by-step guide!
Step 1: Log in to your CommonTime account. Don't have one? Sign up for FREE!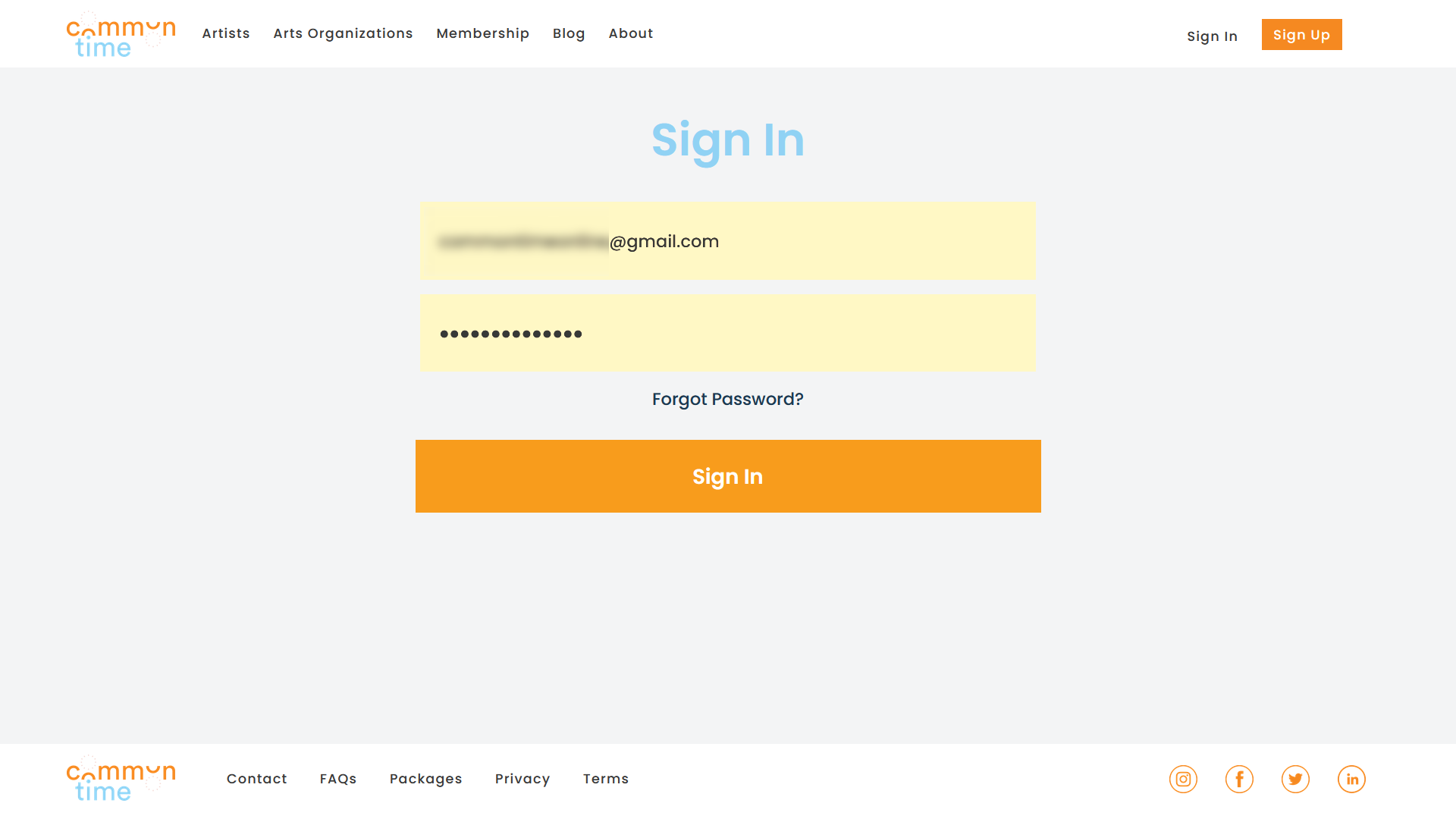 ---
Step 2: Once you are logged in, use the search bar on the CommonTime homepage to search for an Artist. You can specify what art form you would like to experience as well as the date on which you would like to have your lesson. You can also click on the Artists tab to browse all of the Artists on CommonTime.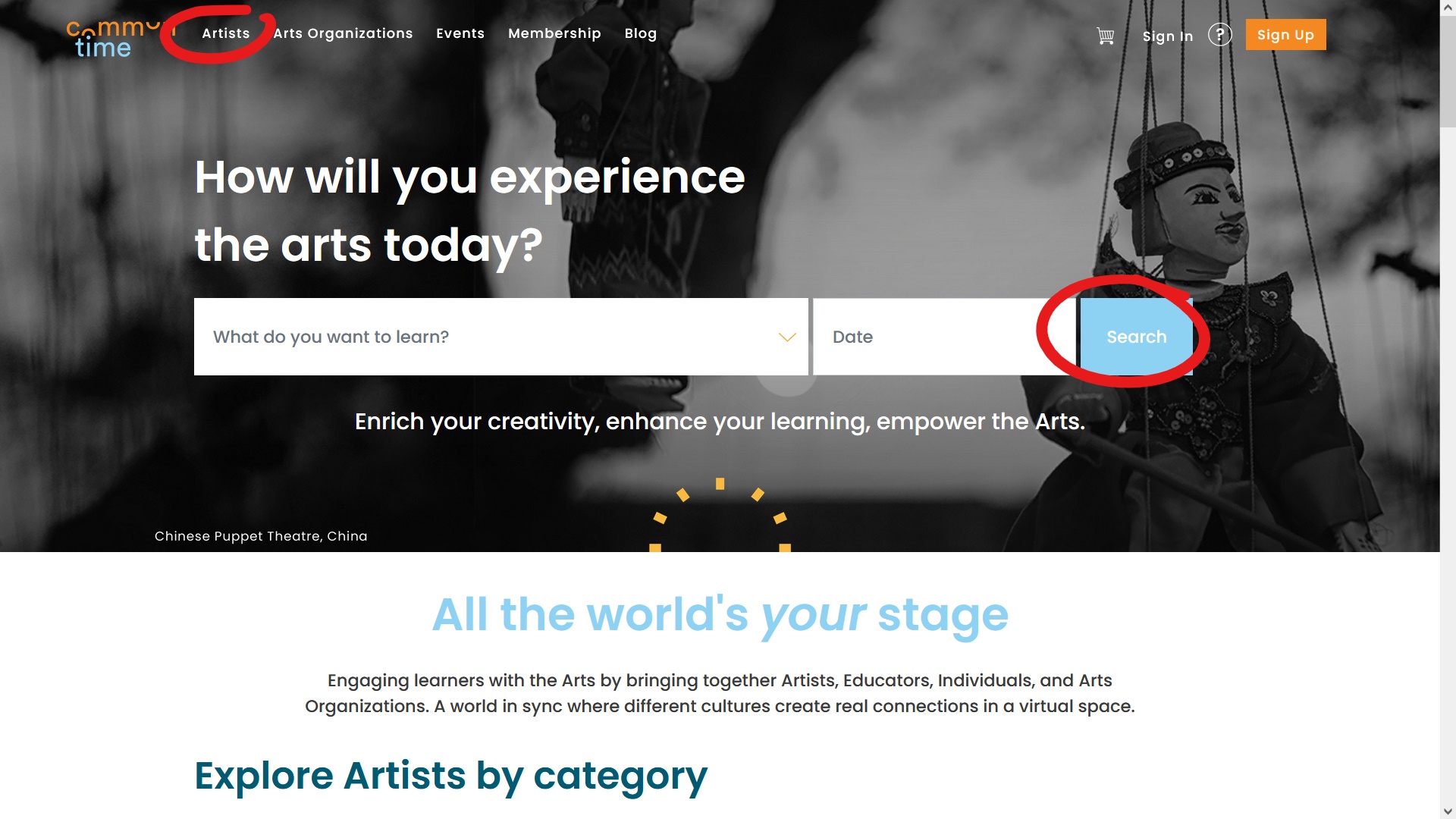 ---
Step 3: When you have found an Artist who fits your curriculum or your interests, click on their name to view their Artist profile.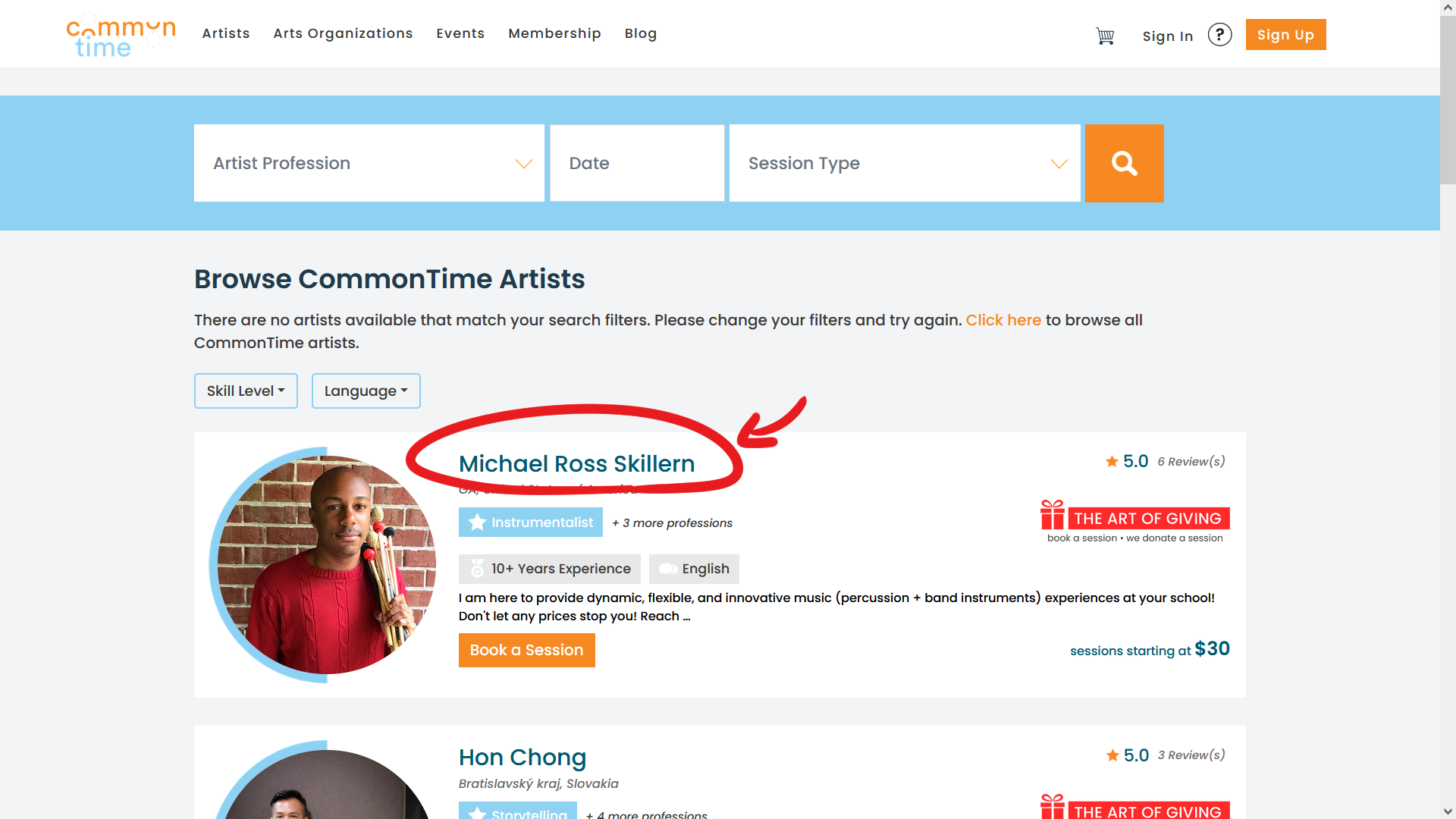 ---
Step 4: Click on the Book a Session tab to see the Artist's Session Offerings or Create a Customized Session.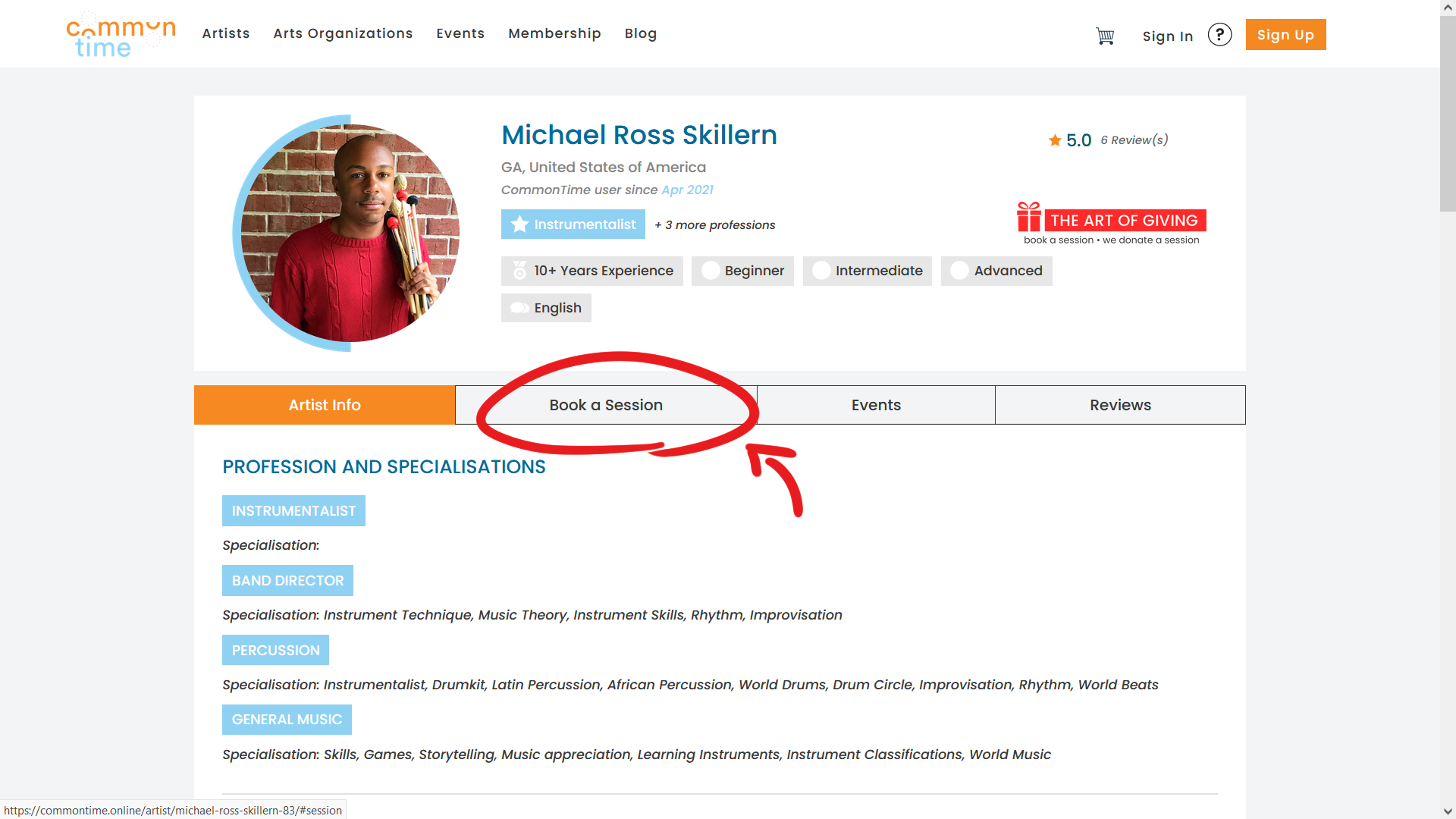 ---
Step 5: To Build a Session, fill out the Build a Session form. Session Type indicates the number of learners who will be participating in the session. You can also choose to have a Meet and Greet, a free introductory session that lets you have a brief video chat with your Artist before you book them. The optional Learning Goals and Outcomes box lets you tell your Artist what you would like to accomplish during your session.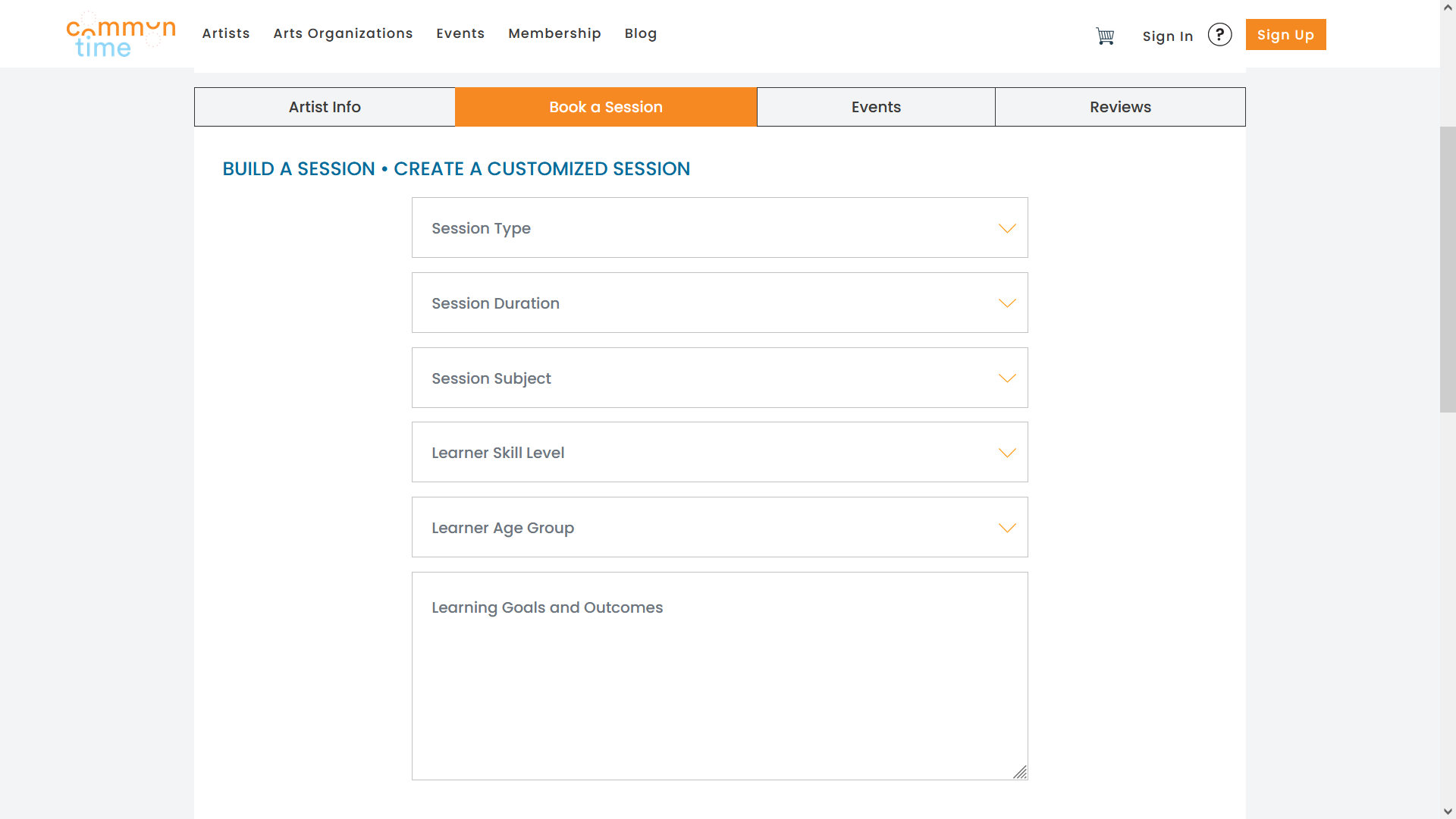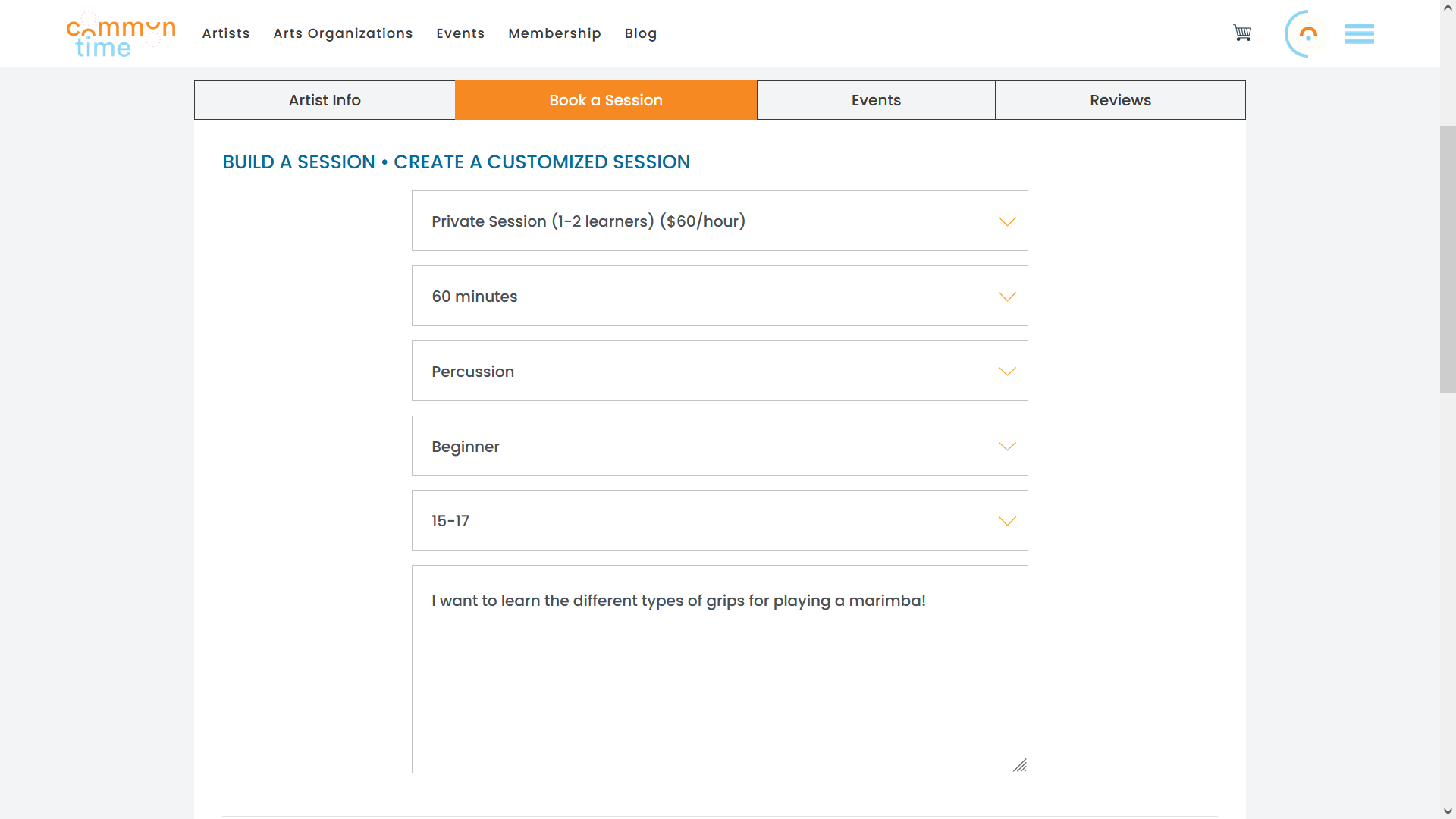 ---
Step 6: Once you have completed the Build a Session form, then choose your date and time slots. Each time slot is 30 minutes. The Calendar shows your Artist's availability. All times appear in your local timezone that you chose during registration.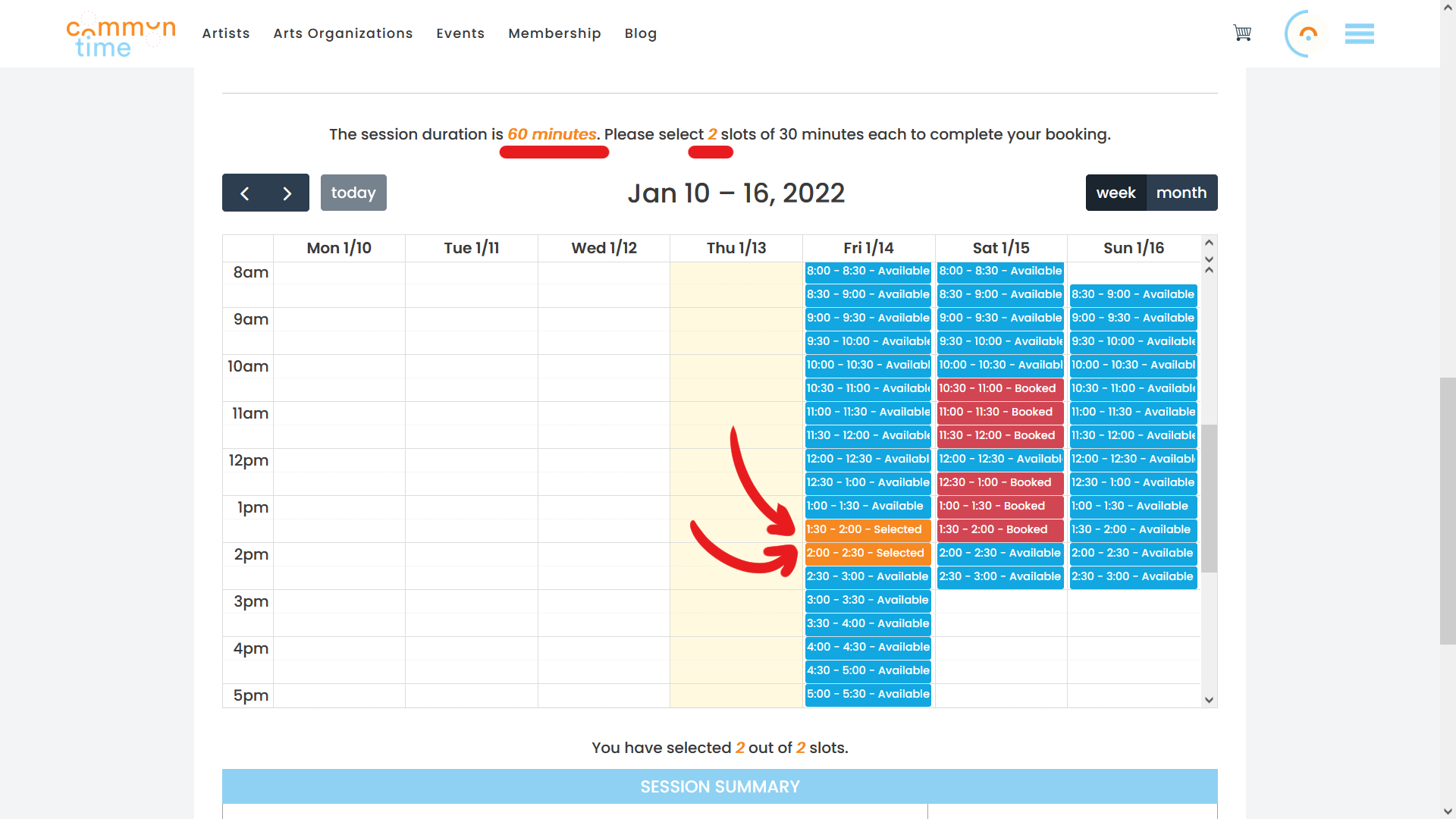 ---
Step 7: You can review your Session Summary and Total at the bottom of the page. When you are satisfied with your choices, click Complete Booking to proceed to the Checkout page. Or, click Add to Cart if you would like to continue shopping.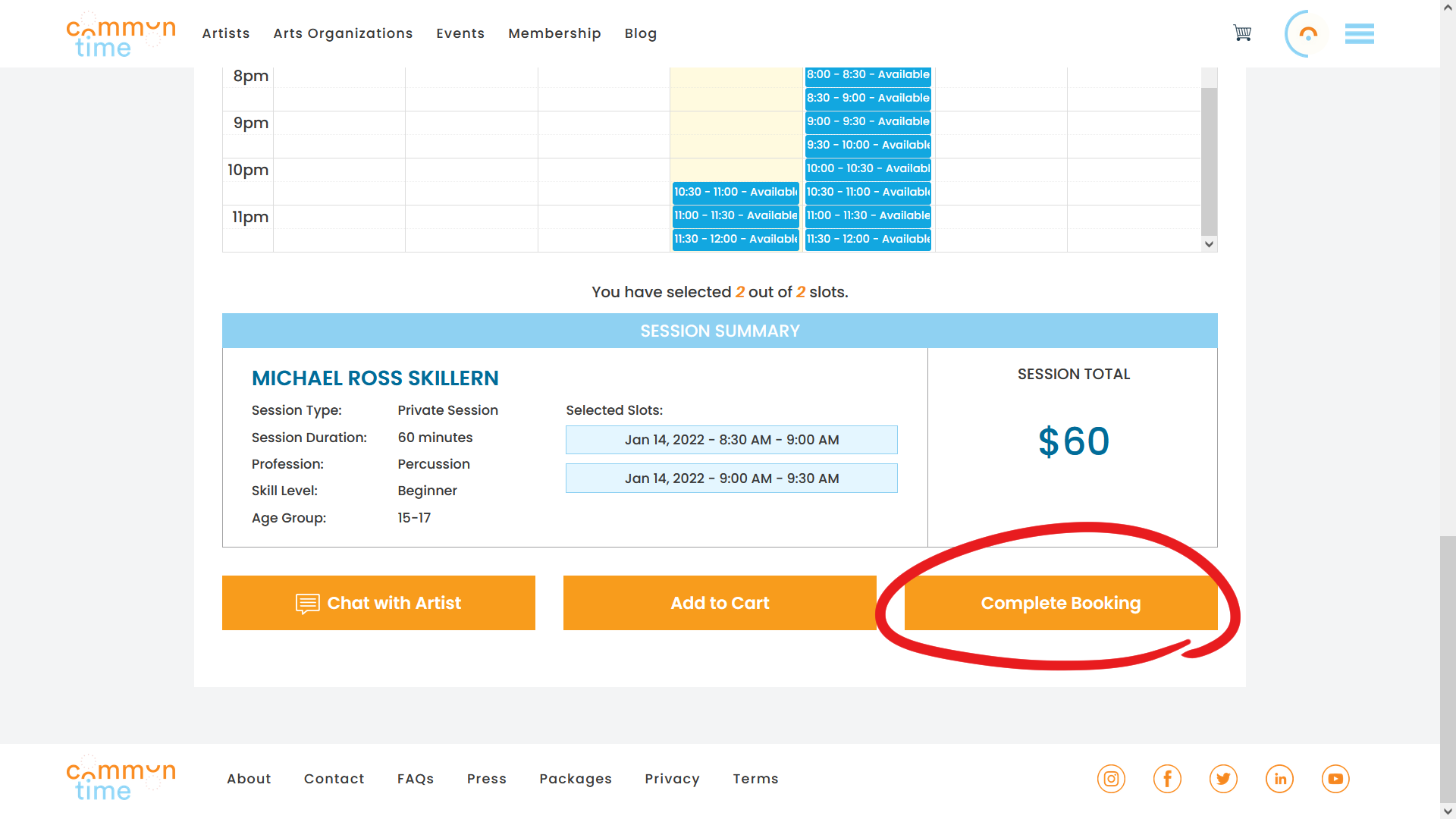 ---
Step 8: On the Checkout page, you can once again review your order. If you have a Promo Code, you can enter it in the box under Price Details. Click Apply to submit your Promo Code.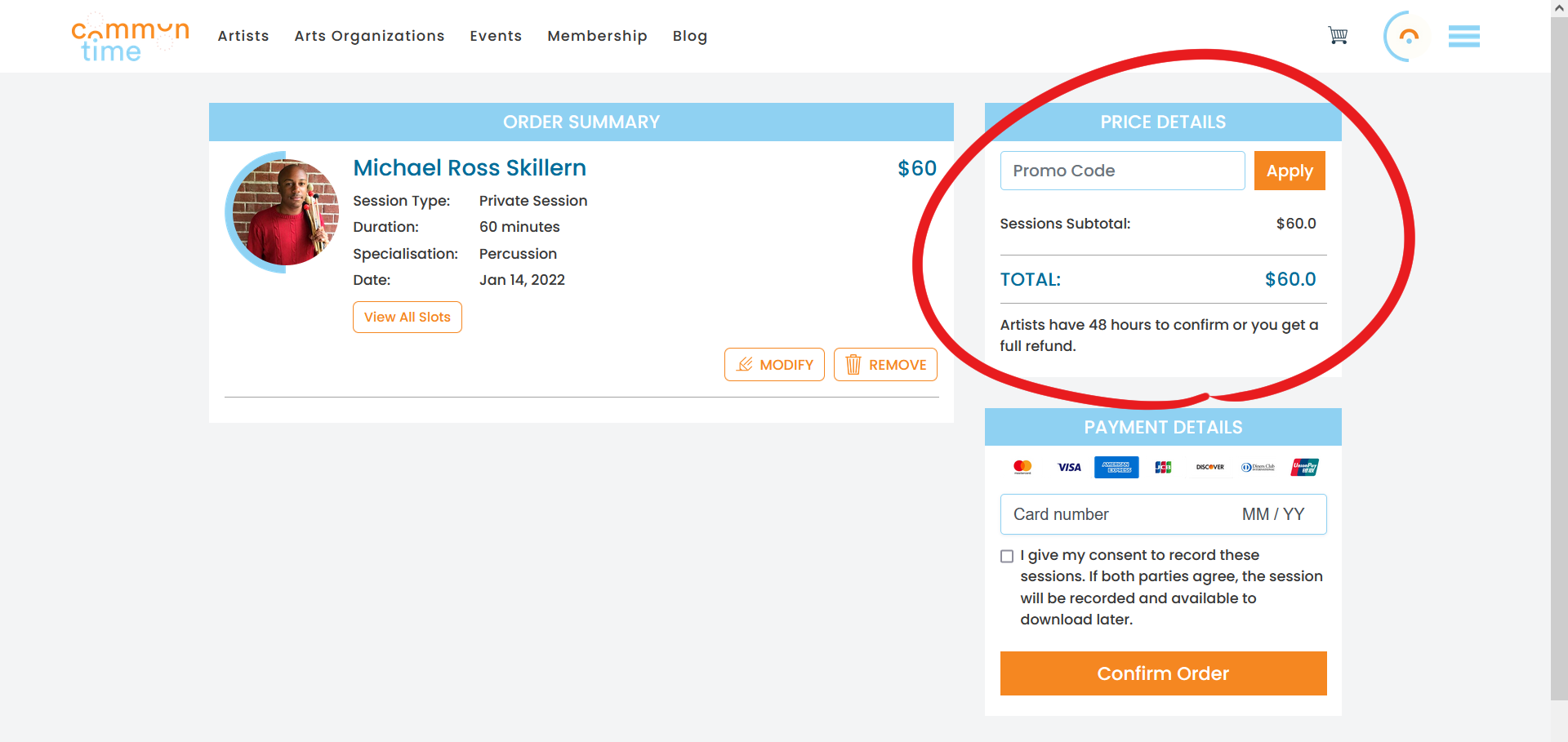 ---
Step 9: Under Payment Details, you can enter your Credit Card number and expiration date. You can also choose to give your consent to have your session automatically recorded. If both you and the Artist give consent, the session will be recorded. Session recordings can be found in the Sessions section of My Account, under Past Sessions.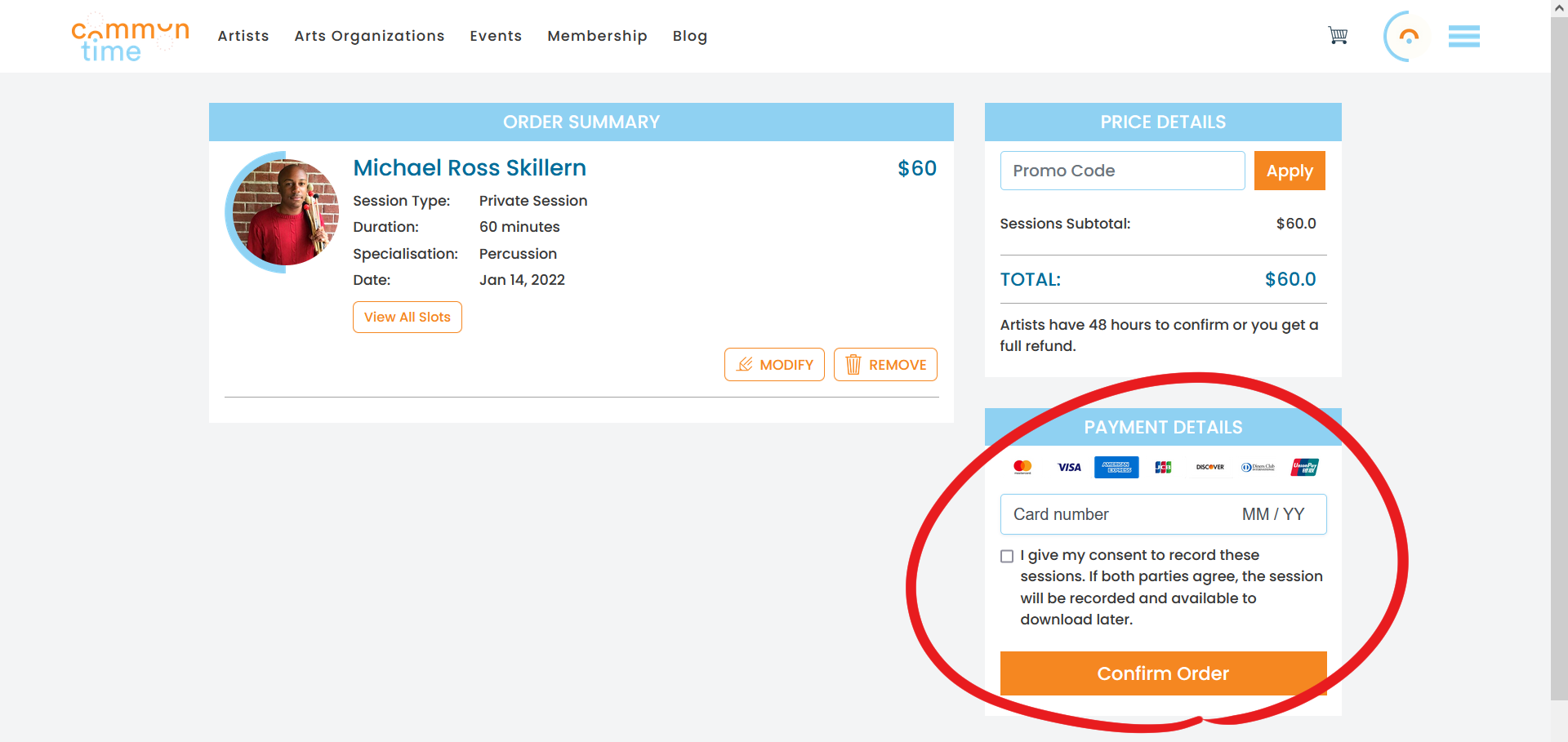 ---
Step 10: Finally, click Confirm Order to complete your booking.

---
Once your artist approves your session, you are all set to have a great Artist session! You can find your session link under Sessions in My Account. The session link will become active 15 minutes before your session start time. You may want to join your session early to make sure that you do not have any technical difficulties.
If you have any questions about booking or sessions, check out our FAQ page to see if your question has been answered. Or, feel free to reach out to us at info@commontime.online.