I have just returned from a trip to one of my homes away from home: Italy. My junior year in college, oh so many years ago, was spent in Florence, Italy. There, I studied Italian language and music while immersing myself in the culture. Italy became a part of me. At any time I can step back into the culture and feel its pulse. I was traveling for CommonTime to reconnect with our partner, the Taranto Opera Festival, and all of its supporters. But I want to start this story at the end of my time in Italy—in Venice.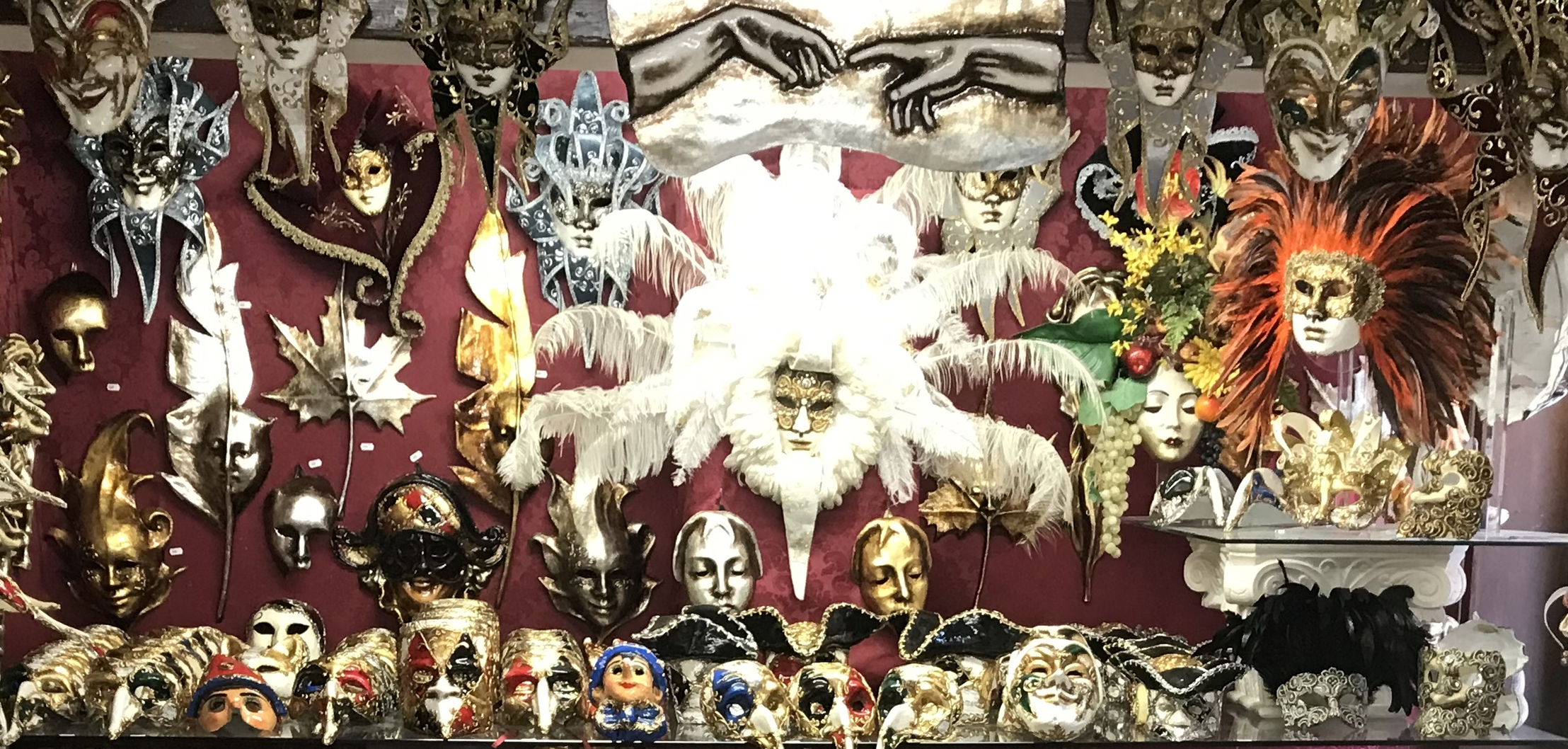 In winter, you can have her almost to yourself. You get to meet many of the remaining locals, a few tourists, and the history that greets you from every calle, street. Before I arrived at my AirBnB, I contacted my Superhost Sofia about meeting some local artists. She did not disappoint. She pointed me toward people whom I like to call "Awareness Artists"; I give them this title because they are part of a vital movement in Venice to stop over-tourism and to promote quality experiences over checklist consumerism.
The first Awareness Artist I met was Michela Bortolozzi. A graduate of sculpture from the Begli Arti, Michela was disillusioned with what was happening to her Venice. Over-tourism—the "Eat and Run" unsustainable tourism that plagues Venice—is checking off a list of generic "Top 10 Things to Do in Venice" rather than experiencing the true heart and soul of the city. Buying cheaply-made, imported plastic gondolas from a vendor for a euro isn't sustaining the Venice known for its beautiful art and architecture. Michela told me: "Venetians are going away. It's depopulating. The government is not supporting young artisans. It's too expensive to rent or have a business. We are at the mercy of tourism. The government is not recognizing cultural traditions."
So Michela left Venice. Her travels took her to Marrakech in Morocco, to Palestine, and to South Africa. In each place she worked with children, immersing herself into the cultures and lives of the people she met. She found, and captured in her own art work, dying art forms.
Michela eventually returned to Venice, the crossroads of culture, to tell this story through her artwork. She set up shop in an appropriately-named location: Campo dei Mori, "The Moors Camp." Her store is named Eat&Run as a reminder of how NOT to experience Venice. Her work is made entirely of locally-sourced, sustainable, and renewable materials. She sculpts candles into recreations of famous Venetian architectural designs—a product series she calls "Relight Venice." She also makes and sells architectural lollipops. When you consume it, all that remains is the stick—a reference to over-consumption. Michela is part of a movement to promote other artists in Venice by declaring, "We are here! Discover us! Sustain us and get to know us!" Don't Eat and Run. Click here to visit Michela's online store.

My second Awareness Artist can be found just 400 meters away from Michela's studio. Nelson Kishi, a man who is Brazilian, Japanese, and Italian, runs Codex Venezia. At Codex Venezia, you can find engravings, sketches, and prints of a city that sees itself as its own souvenir. As stated on their website in Italian, the studio "contains original things, to take away before leaving, memories of how Venice could have been before forgetting it, or to continue dreaming of it in another country…" A music manuscript caught my eye—in the staff Nelson sketched out different visions of the city. Just as a picture is worth a thousand words, images of Venice inspire unlimited songs. Click here to learn more about Codex Venezia and Nelson's work.
Leaving the quiet beauty of Cannaregio, I walked through the winding calles to see San Marco. It had been over 20 years since I was last there, in winter, during Carnival. Another Awareness Artist, Christina, greeted me at Studio Saor. Strategically located near San Marco, the studio invites you in to look, ask questions, and see the details of the architecture of Venice through the bright, inviting, and colorful prints.

Its best seller was the Vaporetto series, a lovingly-detailed illustration of one of Venice's most popular forms of public transportation: the vaporetto, the Venetian waterbus. But every piece of Illustrated Architecture brought a new perspective of Venice to life. At Studio Saor you can take your time and learn about Venice instead of rushing to your destination. Stop. Don't Run. Click here to check out Studio Saor's website.
My last day in Venice was all too short. I wanted to get to Murano, where (as I had heard from my Awareness Artists) many of the glass blowing studios had closed. Cheap imitation glass was being bought rather than the quality Venetian work of this centuries-old tradition. Not to be deterred, I found a jewellery store called Italian Style that had Murano glass beads and sculptures made into beautiful necklaces, earrings, and rings. The colors of the glass reflected the beauty of the water and its ever-changing colors. Here, I met another Venetian: Alberto. We spent time discussing the colors of a necklace and ring, the technique to fire in the mineral strands, and how different colors were created in the process. And when that was done, we spent some time comparing the Venetian language to that of Sienese.

Now, let's conclude this story with the place where it really began: Taranto, the City Between Two Seas. Last year, the Taranto Opera Festival partnered with CommonTime to share their operas and Taranto itself with the wider world. We have an ongoing collaborative vision to bring more awareness to this beautiful place in Puglia. Taranto is returning to its glory, and its tradition, by offering its beautiful location and exceptionally colorful history. Sustainable cultural tourism is the foundation upon which Taranto is building its Renaissance, with the support of UNESCO and the Ministry of Culture. Through livestreams and masterclasses on CommonTime, we offer the opportunity to learn about opera and Taranto to children and arts lovers across the globe. My final Awareness Artists are the Taranto Opera Festival directors. Their tangible and intangible role in sustainable cultural tourism is a boon to the creative economy of Taranto—something that Taranto's great marketing executive, Gianluca Lomastro, writes about in his recently published book, Fare Impresa a Taranto è Difficile (se sbagli metodo), "Making an Impression on Taranto is Difficult (if You Get the Method Wrong)."

Every traveler should aspire to make a personal connection to the cities they visit—to their inhabitants and the stories they tell. Arrive with an open mind, some quality time, and the willingness to enjoy a culture. When you travel next, don't arrive with only a "Top 10" list of things to see. Arrive with an ear to hear the stories behind what you will experience.
Even if you can't travel, you can have a great arts experience or learn a new art form on CommonTime. Wherever you are, make real connections with real artists around the world. Sign up for free on CommonTime and enjoy the arts.
Christine Matovich is the Founder of CommonTime.online. She is also an arts educator, arts administrator, and artist living near Stuttgart, Germany.